Fulminant acne. Modern solution of the problem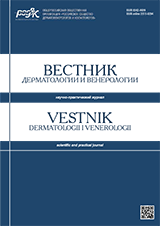 Authors: Drozhdina M.B.1
Affiliations:

Kirov State Medical University, Ministry of Health of the Russian Federation

Issue: Vol 95, No 4 (2019)
Pages: 79-86
Section: DRUG TREATMENT IN DERMATOVENEROLOGY
Abstract
Modern ideas about the etiological factors underlying a rare, serious illness — fulminant acne, the influence of genetic and exposure factors on the formation of the disease, and the pathogenesis of this form of acne are described. The main pathogenetic factors affecting the debut and course of fulminant acne were identified: Cutibacterium and the microbiome of the skin as a whole; sebum overproduction of sebum with the direct participation of dihydrotestosterone, progesterone, insulin-like growth factor-1; features of innate immunity, follicular hyperkeratosis. The clinic, complications and optimal therapeutic tactics at the present stage are described. A clinical case with a successful therapeutic outcome is presented.
About the authors
M. B. Drozhdina
Kirov State Medical University, Ministry of Health of the Russian Federation
Author for correspondence.
Email: drozhdina@yandex.ru

Russian Federation
Cand. Sci. (Med.), Assoc. Prof., Department of Dermatovenerology and Cosmetology,
Karla Marksa str., 112, Kirov, 610998
References
Dreno B., Pecastaings S., Corvec S. et al. Cutibacterium acnes (Propionibacterium acnes) and acne vulgaris: a brief look at the latest updates. J Eur Acad Dermatol Venereol. 2018;32(Suppl 2):5–14. doi: 10.1111/jdv.15043
Palatsi R., Oikarinen A. Hormonal analysis and delayed hypersensitivity reactions in identical twins with severe acne. Acta Derm Venereol. 1979;59(2):157–160.
Lynn D. D., Umari T., Dunnick C. A., Dellavalle R. P. The epidemiology of acne vulgaris in late adolescence. Adolescent Health Med Ther. 2016;7:13–25. doi: 10.2147/AHMT.S55832
Zhang M., Qureshi A. A., Hunter D. J., Han J. A genome-wide association study of severe teenage acne in European Americans. Human genetics. 2014;33(3):259–264. doi: 10.1007/s00439-013-1374-4
Heydenreich G. Testosterone and anabolic steroids and acne fulminans. Arch Dermatol. 1989 Apr;125(4):571–572. doi: 10.1001/archderm.125.4.571b
Wollina U., Gesina H., Koch A., Kostler E. Case reports: acne fulminans in Marfan syndrome. J Drugs Dermatol. 2005 Jul-Aug;4(4):501–505.
Dreno B., Bettoli V., Araviiskaia E. et al. The influence of exposome on acne. J Eur Acad Dermatol Venereol. 2018;32:812–819. doi: 10.1111/jdv.14820
Murillo N., Raoult D. Skin microbiota: overview and role in the skin diseases acne vulgaris and rosacea. Future Microbiol. 2013;8:209– 222. doi: 10.2217/fmb.12.141
Wolf R., Parish L. C. Effect of soaps and detergents on epidermal barrier function. Clin Dermatol. 2012;30:297–300. doi: 10.1016/j.clindermatol.2011.08.021
Матушевская Е. В., Антонова Л. А., Матушевская Ю. И., Петрова К. С. Клинический опыт применения системного изотретиноина в лечении тяжелых форм акне. РМЖ. 2018;82(II):109–112.
Nagy I., Pivarcsi A., Kis K. et al. Propionibacterium acnes and lipopolysaccharide induce the expression of antimicrobial peptides and proinflammatory cytokines/chemokines in human sebocytes. Microbes Infect. 2006;8:2195–2205. doi: 10.1016/j.micinf.2006.04.001
Placzek M., Degitz K., Schmidt H., Plewig G. Acne fulminans in late-onset congenital adrenal hyperplasia. Lancet. 1999 Aug 28;354(9180):739–740. doi: 10.1016/S0140-6736(99)01862-0
Hoyt G., Hickey M. S., Cordain L. Dissociation of the glycaemic and insulinaemic responses to whole and skimmed milk. Br J Nutr. 2005;93:175–177. doi: 10.1079/BJN20041304
Honma M., Murakami M., Iinuma S. et al. Acne fulminans following measles infection. J Dermatol. 2009 Aug;36(8):471–473. doi: 10.1111/j.1346-8138.2009.00680.x
Brănişteanu D. E., Cotrutz C. E., Luca M. C., Molodoi D. A., Stoica L. E., Ianoşi S. L. et al. Morphopathological stigmata in acne fulminans. Rom J Morphol Embryol. 2015;56(3):1185–1190.
Dreno B. What is new in the pathophysiology of acne, an overview. J Eur Acad Dermatol Venereol. 2017;31(Suppl 5):8–12. doi: 10.1111/jdv.14374
Greywal T. L., Zaenglein A., Baldwin H., Bhatia N., Chernoff K. Evidence-based recommendations for the management of acne fulminans and its variants. J Am Acad Dermatol. 2017 Jul;77(1):109–117. doi: 10.1016/j.jaad.2016.11.028
Wakabayashi M., Fujimoto N., Uenishi T., Danno K., Tanaka T. A case of acne fulminans in a patient with ulcerative colitis successfully treated with prednisolone and diaminodiphenylsulfone: a literature review of acne fulminans, rosacea fulminans and neutrophilic dermatoses occurring in the setting of inflammatory bowel disease. Dermatology. 2011;222(3):231– 235. doi: 10.1159/000324226
Williamson D. M., Cunliffe W. J., Gatecliff M., Scott D. G. Acute ulcerative acne conglobata (acne fulminans) with erythema nodosum. Clin Exp Dermatol. 1977 Dec;2(4):351–354. doi: 10.1111/j.1365-2230.1977.tb01574.x
Kim S. Y., Jung S. K., Lee S. G., Yi S. M., Kim J. H., Kim I. H. Acne fulminans with osteolytic change in metaphysis of distal radius. Int J Dermatol. 2016 May;55(5):571–573.
Gordon P. M., Farr P. M., Milligan A. Acne fulminans and bone lesions may present to other specialties. Pediatr Dermatol. 1997 NovDec;14(6):446–448. doi: 10.1111/j.1525-1470.1997.tb00686.x
Iqbal M., Kolodney M. S. Acne fulminans with synovitis-acne-pustulosis-hyperostosis-osteitis (SAPHO) syndrome treated with infliximab. J Am Acad Dermatol. 2005 May;52(5. Suppl 1):S118–S120. DOI: 10.1016/j. jaad.2004.09.006
Kraus S. L., Emmert S., Schön M. P., Haenssle H. A. The dark side of beauty: acne fulminans induced by anabolic steroids in a male bodybuilder. Arch Dermatol. Oct 2012;148(10):1210–1212. doi: 10.1001/archdermatol.2012.855
Heydenreich G. Testosterone and anabolic steroids and acne fulminans. Arch Dermatol. 1989 Apr;125(4):571–572. doi: 10.1001/archderm.125.4.571b
Siadat A. H., Bostakian A., Abtahi-Naeini B., Shahbazi M. Successful Treatment of Facial Acne Fulminans: Antimicrobial Agents and Oral Prednisolone as Promising Regimes. Case Rep Dermatol Med. 2017;2017:7092910. doi: 10.1155/2017/7092910
Кохан М. М., Кениксфест Ю. В., Шайбакова Ю. Б., Полякова Н. В., Топычканова Е. П., Кащеева Я. В. и др. Опыт терапии больных различными формами акне препаратом системного изотретиноина. Клиническая дерматология и венерология. 2014;2:91–99.
Howard R., Smith G. The readability of iPledge program patient education materials. J Am Acad Dermatol. 2018;79(4):e69-e70. doi: 10.1016/j.jaad.2018.05.038
Seukeran D. C., Cunliffe W. J. The treatment of acne fulminans: a review of 25 cases. Br J Dermatol. 1999 Aug;141(2):307–309. doi: 10.1046/j.1365-2133.1999.02982.x
Massa A. F., Burmeister L., Bass D., Zouboulis C. C. Acne Fulminans: Treatment Experience from 26 Patients. Dermatology. 2017;233(2– 3):136–140. doi: 10.1159/000473860
Zaenglein A. L., Pathy A. L., Schlosser B. J., Alikhan A., Baldwin H. E., Berson D. S. et al. Guidelines of care for the management of acne vulgaris. J Am Acad Dermatol. 2016 May;74(5):945–973.e33. doi: 10.1016/j.jaad.2015.12.037
Statistics
Views
Abstract - 311
PDF (Russian) - 194
Refbacks
There are currently no refbacks.